And.................the imposed a $2500 cash bail, so he's back among us any minute.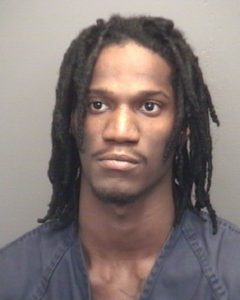 Dreadlocked, scowling Kededrique Boyd was a career criminal. But even he topped himself when he blew up at his girlfriend and threw her puppy — still in her cage — off an apartment balcony in Evansville, Indiana.
Being a product of the narcissistic Worldstar Hiphop generation, he filmed the whole thing, which makes proving the animal cruelty charges kind of simple and boring for the DA's office.
An Evansville man is in jail accused of doing the unthinkable to a puppy. 23-year old Kededrique Boyd was arrested Thursday night and faced a judge Friday on several felony animal cruelty charges.

Officers said it started with a fight between Boyd and his girlfriend, that lasted most of the day until she left for work. Police told 14 NEWS, while she was at work, Boyd filmed himself throwing her black lab puppy, in its cage, over their balcony Thursday night.

"When I seen the police, I suspected something else. That was the last thing I expected to hear, it's pretty terrible," said a neighbor who asked to not be identified.

EPD said on Thursday Boyd and his girlfriend argued over ownership of property and child custody and that argument, officers said, escalated to them breaking up.

Officers told us when Boyd's girlfriend left for work, he shot this video on his cell phone, The video is graphic, and we've chosen not to show the cage hitting the ground.

"I just don't know what this world is coming to, to throw a puppy or a dog or anything, it's cruelty to animals," said the neighbor. "I just think it's awful."

"We do a lot of family violence, domestic disputes, and arguments between couples and we also do a lot of animal cruelty runs," said Lt. Scott Doan with Evansville Police. "But it's very rare for us to see something where an animal is used as a ploy or a tactic for one person to get back at another."

The 10 week-old black lab puppy, named "baby" is doing much better now.

In addition to Friday's felony animal cruelty charges, Boyd already had an outstanding warrant out of Jackson County, Indiana. His bond is $25,000, or $2,500 cash. He'll be back in court next week.

Animal control said the girlfriend signed over ownership of that puppy to them Thursday night. She's with animal control now, and will be available for adoption in the next few days.
via
Evansville man throws girlfriend's 10 week-old puppy in its cage – Cincinnati News, FOX19-WXIX TV
.
If you skimmed that and didn't see what happened to the dog, she survived, she's ok, and Kededrique's (presumably ex-) girlfriend gave her up to a shelter, whence she'll be going to a slightly less, shall we say,
kinetic
, household.
Kededrique? He's probably going to prison. Be nice if someone could drop
his
cage off a high perch.