Ok team. I recently upgraded my ride, and what an upgrade it was. For anyone who never saw the old ride it was, to be blunt, a rape van. Black 2003 E250, cage in the back, shelf unit with shrink wrap, shovels, stuffed animals, etc. In my defense, i use the shrink wrap and shovels for fire investigations, and i kept a bag of stuffed animals in there for the lad to destroy at Freeport. Well, the old rape van was around 200k on the odometer, and I figured it was time to treat myself. So i got a brand spanking new 2016 Ford F250 XLT. I won't talk dollars and cents here, suffice to say there are alot of dollars and cents I won't be talking about.
Anyways, here she is as purchased.
Mm yeah. Well that wife of mine couldnt get into it, so I added some nerf bars.
Now we are warming up. The interior was fit for a sheep though, so you know I had to camo it up.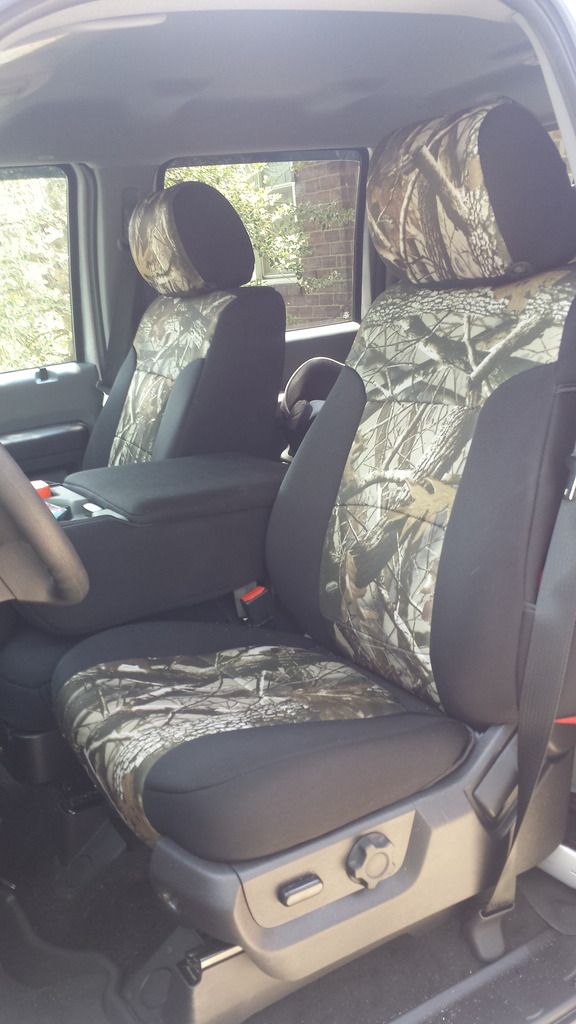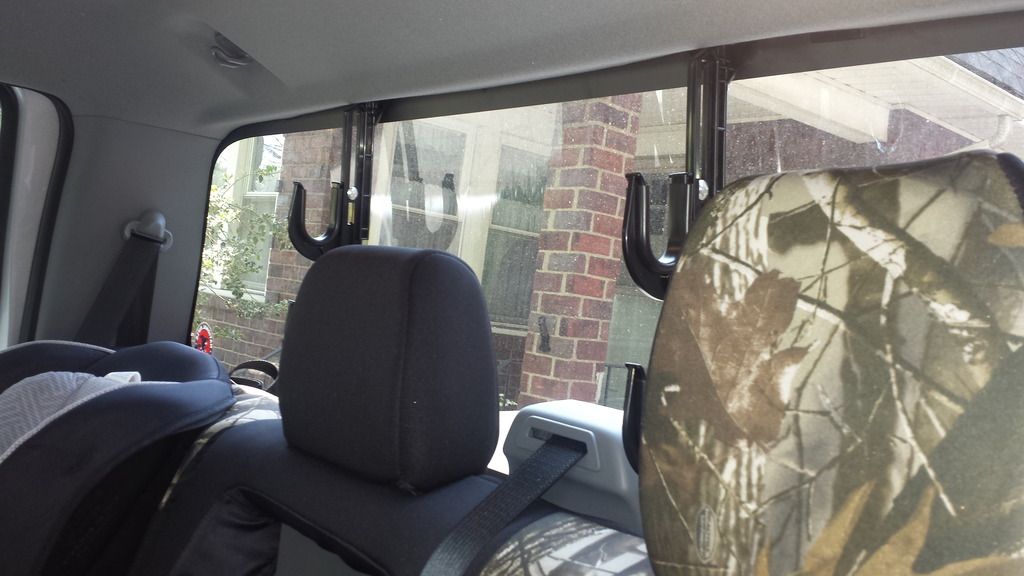 You guys didn't think I would get a pickup truck and not put a gun rack in the rear window, did you?
Starting to feel like mine. I dont think I have a before picture, but I had to do a bedliner on it, whether its evidence from a fire scene, a pile of AKs for the Freeport Blast, hopefully a bunch of poor innocent delicious deer in a few months, this bed will be seeing some use.
I didn't want to do a full toolbox, because there will be times that I will need the length of the bed, but I do want to keep a small complement of basic tools and supplies handy, so I rigged up some custom storage that would make any gun owner proud. Two 20mm ammo cans, kept in place by steel brackets I fabbed up, can be removed by simply unlocking a padlock (couldn't manage a good picture of the lock, they are facing the interior bed wall). These 20mm cans fit 2 regular 50 cal cans in each, with room to spare, so I set a few up to carry stuff I will use on a regular basis. Then, when I go to my place upstate, etc, I can pluck out my work cans, drop in ammo cans full of ammo, and be on my way. 20mm cans coated in bedliner to match the bed.
Now this next one is tough to do justice to in a picture, but I wired up some LED lighting in the bed. Controlled by a toggle switch just interior of the tailgate (you can see it in the last pic just to the rear of the ammo can on the left hand side), constant hot for lighting on demand. Came out awesome.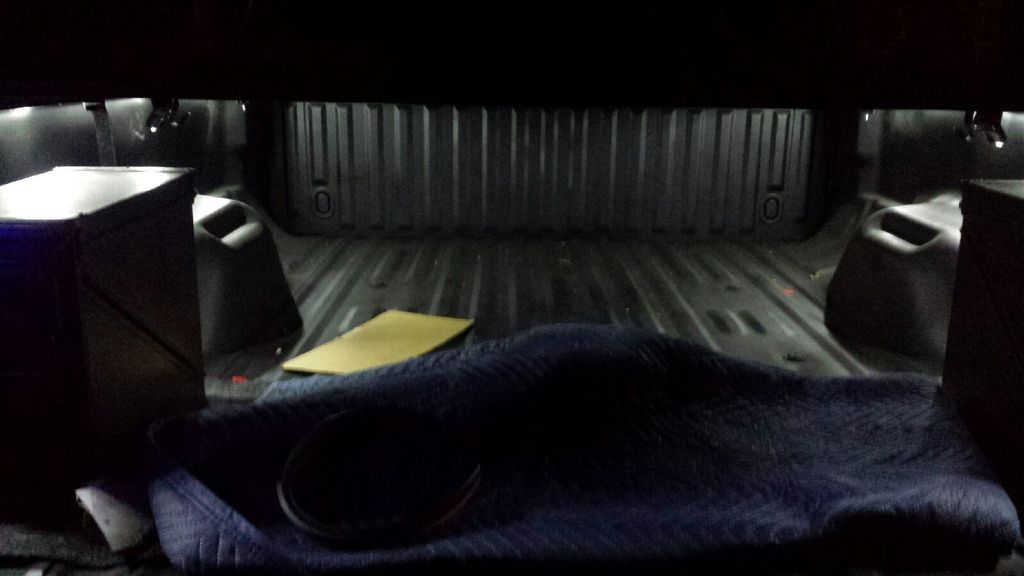 Obviously I need to protect the contents as well, so a tonneau cover it is.
And now, the icing on the cake. Obviously I need to let people know, this vehicle belongs to a proud Right Wing Conservative Extremist, but how do I accomplish that when there isn't anything extreme enough on the open market to really drive my feelings home? I had to go custom.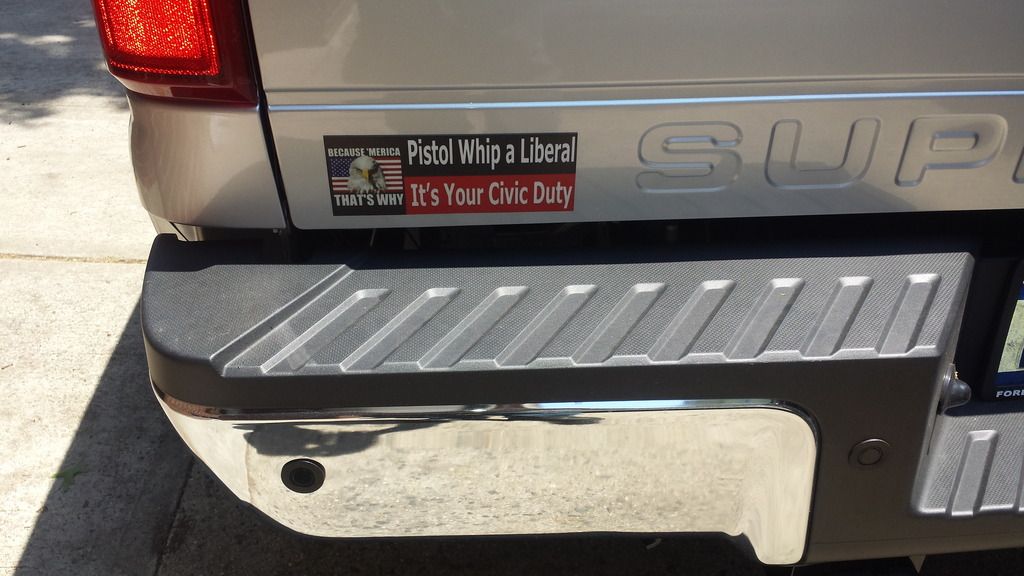 So far it has gotten fantastic feedback, PD flashed me on the Cross Island and then drove alongside me with a stern thumbs up protruding out their passenger side, every day I commute into East New York atleast 1 liberals head explodes and they show their appreciation by being on the verge of tears while yelling what I can only assume are thoughtful words of encouragement, while they also give me enthusiastic thumbs up (East New York they do it different, they use their middle finger).
Anyways, thats about it. I did some interior wiring to gain a few ignition powered outlets, added some retractable tie down rings to the side rails, added a hook unit to each side rail, and I eventually plan on doing a bed mounted 1919a4 (you know, for my son).
Let me know what you think, and as always, God Bless America.