The below article appeared in the Wall Street Journal back in 2011.
Watch this video if you do not think the New Jersey bear population needs to be culled.
This bear went swimming in a backyard pool in Mendham, N.J. this June.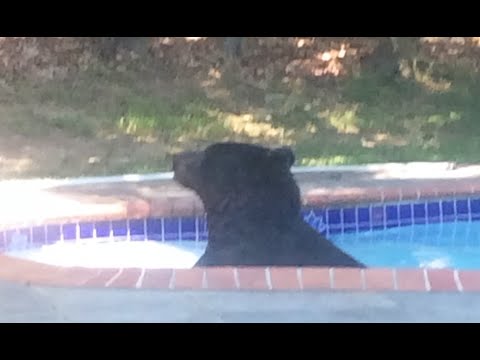 "After Long Hibernation, Taxidermists Make a Killing During Bear Season"
http://www.wsj.com/articles/SB100014...94633599203416
By Maya Pope-Chappell
December 15, 2011

For New Jersey's legion of tax accountants, boom times come once a year. But local taxidermists can wait for years at a stretch for their biggest moneymaker: bear-hunting season.

The walls at Delaware & Hudson Taxidermy in Matamoras, Pa., along the New Jersey border, display a wolverine, turkey and fox—all roadkill. Owner Dave Clark says car-struck critters accounted for much of his business before bear season.

"Bears are far more profitable for a taxidermist than any other animal," said Mr. Clark. His shop took in 119 black bears last year, including 59 from New Jersey. It doubled his yearly profit. "For every bear that comes in here, we average $1,500 in sales." He paused before a mounted bear carcass: "Ka-ching!"

New Jersey, the most urbanized state in the U.S. by human count, has 3,400 bears in its northwest corner—where the hunt occurs. That's more than double the number in 2003. The population explosion of Ursus americanus has led to man-bear encounters and spurred the state in 2003 to reinstate bear hunting, after halting it in the 1970s. The state has permitted hunting four times in the past decade, including a six-day season that ended Saturday.

Roughly 7,000 hunters turned out this year, killing 469 bears. Last year, when the state also had a six-day hunt, 592 were shot.

The furry haul has unleashed a bull market for mounted bears, turning New Jersey's taxidermists into unlikely job creators.

Mr. Clark brought on two extra seasonal workers to help process the trophies and is looking to hire a full-time taxidermist immediately. One of the workers, when not skinning mammals, makes a living as a cookie deliveryman. Bill and Ken's Taxidermy in Morganville, N.J., also hired more help.

Wayne Novotny, the butcher at Bill and Ken's Taxidermy, has been putting in 12-hour days and sleeping on a cot there. The shop snagged seven bears this year, down from 20 last year. He took vacation from his other job as a casino supervisor in Pennsylvania during bear season.

Unlike deer hunters, who don't always mount their kills, those who kill bears tend to preserve them. "I don't know anybody who didn't have a rug or a mount done on their bear. It has been a big plus to the taxidermy industry," Mr. Novotny said.

After the dead bear arrives for mounting, taxidermists hit customers with a key question: open mouth or closed mouth. Theodore Roosevelt had a simple formula for that, said John Janelli, historian of the National Taxidermists Association. Herbivores such as deer should be mounted with their mouths closed, whereas carnivores—a group that includes bears, wolves and mountain lions—should be preserved with mouths open.

Hunters also can choose a facial expression and opt for a paws-up or paws-down pose. Jason Wizner, a 25-year-old part-time taxidermist, said the home setting often dictates the bear's mien—an animal destined for the living room should have a calm, naturalistic air, while a bear placed in the rustic décor of a cabin can have a more ferocious look.

Dave Lobycz, a transit construction worker and New Jersey hunter, came to Mr. Clark's shop last week to order a full-size mount of the 180-pound female bear he killed the day before with a shotgun. Workers used a sled to carry the bear from his pickup truck into the showroom, where it was placed on a laminate-topped wooden table.

Mr. Clark measured the bear and asked whether the hunter wanted an open or closed mouth.
"Definitely open," replied Mr. Lobycz.

"A lot of times they make the bear look like it did when they first saw it in the woods," explained Mr. Clark.

The hunter paid a $300 deposit for the roughly $2,600 mount and watched as Mr. Clark and his helpers set to work on the bear, shearing off its skin with a scalpel.

Last year, so many bears arrived that Mr. Clark said he paid an employee at a nearby deli to stash three in the ice freezer. With bears still coming from this year's hunt—he has 84 so far—he hopes the extra hires will allow him to process the animals quickly, without resorting to the deli.

"Be glad you're not one of my neighbors," he said.

The renewed hunt also has boosted the fortunes of Mr. Wizner, who splits his time between construction work and taxidermy. He works from the garage and basement of his parents' home in Clifton, N.J. His business was largely in hibernation before the bear season's return.

"The phone is ringing off the hook," said Mr. Wizner as he skinned a 250-pound black bear in his driveway. The animal hung suspended from a pulley attached to his neighbor's stair railing. Another bear lay in the back of a pickup truck in the driveway and four others rested on the garage floor.

Keeping bears in cold storage isn't an option for Mr. Wizner, who has two already-full freezers and said his mother wouldn't give up any of her freezer space in the house. He planned to stay up late to process the bears and return the carcasses to the hunters before the meat spoiled. The quick turnaround is also an effort to avoid disposing of the carcasses in the household garbage.

"I would have such a pile of bear parts to dispose of…my garbage men would not be happy," he said.

Last year, he took in two bears from the New Jersey hunt, and he is currently up to eight. He charges $150 to skin the bear, or $750 and up for a bear shoulder mount.

New Jersey-area taxidermists are hoping the black bear hunt will remain a yearly event. State officials approved a policy last year that would allow the annual hunts to continue indefinitely, but said that depends on the bear population.

None hold out hope, perhaps, more than Mr. Wizner, who dreams of quitting the construction business to take up taxidermy full time—and moving out of his family's house. "I would skin the bears in my own shop instead of my parents' driveway."