These Members Of Congress Used Campaign Funds To Buy Guns
More than a dozen Republican members of Congress used campaign contributions to buy guns, ammunition or tickets to gun-related events, a public interest group said Wednesday.
An
analysis
of campaign finance records shows that since 2014, 13 members of the House or Senate spent a combined $25,526 from their campaign coffers to purchase "guns, ammunition or tickets to gun shows and shooting events," according to Citizens for Responsibility and Ethics in Washington, or CREW, a nonpartisan nonprofit.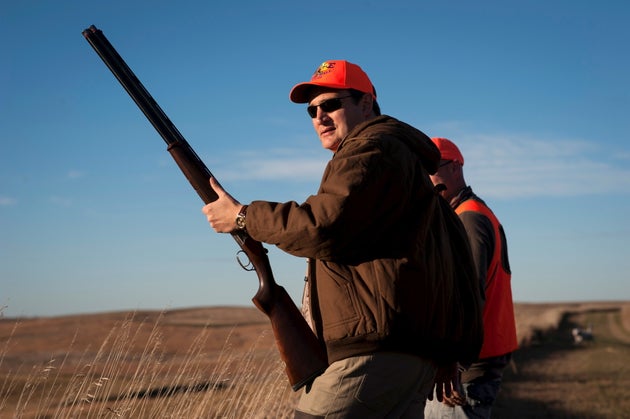 Mark Kauzlarich / Reuters Sen. Ted Cruz pauses before heading further down field during the Col. Bud Day Pheasant Hunt hosted by Rep. Steve King outside of Akron, Iowa, Oct. 31, 2015.
While campaign dollars are more typically spent on expenses like advertising, travel and legal fees, CREW said lawmakers buy guns as
campaign gimmicks
or for
fundraisers.
Rep. Steve King (R-Iowa) last year spent more than a $1,300 on firearms autographed by gun fans, including musician and NRA board member Ted Nugent and Sen. Ted Cruz (R-Texas). The weapons were later
raffled off.
Gun giveaways can be legally murky, CREW said, depending on how strictly lawmakers adhere to state rules on the transfer of gun ownership.
Rep. John Culberson (R-Texas) spent $2,750 in October at a Houston gun club, which provided event space, gun rental and ammunition for a
campaign appearance.
Other lawmakers who CREW said spent campaign money on gun-related items and events were Rep. Joe Barton (R-Texas), Rep. Bill Flores (R-Texas), Sen. Susan Collins (R-Maine), Rep. Ryan Zinke (R-Mont.), Rep. Stephen Fincher (R-Tenn.), Sen. James Inhofe (R-Okla.),
Rep. Jason Smith (R-Ill.)
,
Sen. John Cornyn (R-Texas)
, Rep. Richard Nugent (R-Fla.), Rep. Duncan D. Hunter (R-Calif.), and Sen. Ted Cruz (R-Texas).
A CBS News
poll this month found that while Americans' overall gun ownership is at its lowest point since 1978 — 36 percent of people reported having guns, compared with 51 percent nearly 40 years ago — gun sales are at
record highs.
Falling gun ownership amid record high gun transactions and gun manufacturing suggest existing gun owners are acquiring even more firearms. The same CBS poll found 19 percent of Americans who live in gun-owning households have 10 or more guns.
The NRA has proven to be a
reliable supporter
of candidates who further the lobby's interests. During the
2014 election cycle
, the NRA and its committees contributed $809,462 to individual campaign coffers. That figure was dwarfed by the $3.3 million the NRA spent on lobbying, and $27 million in "outside contributions" for committees and Super PACs.