Trump: I'm with the NRA, 'We're Saving Your 2nd Amendment 100 Percent'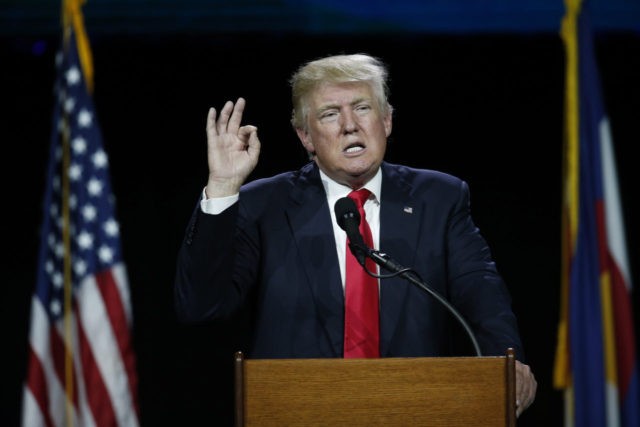 During his July 1 speech at the Western Conservative Summit, presumptive Republican presidential candidate Donald Trump lauded the National Rifle Association (NRA) and his relationship with the group, saying, "We're saving your Second Amendment 100 percent."
According to CBS News,
Trump praised
the NRA during the conference held in Denver. He said, "I have to tell you, the NRA – these are terrific people and they love the country. They take a lot of heat, and they don't have the easiest job, but they love the country."
He then singled out NRA senior vice president Wayne LaPierre and NRA-ILA executive director Chris Cox, and stressed again that "they love our country."
Trump said, "What they do is not easy and they are saving the Second Amendment for you." He then made clear that he is fighting beside them as they fight for gun rights, saying, "The NRA endorsed me, we're saving your Second Amendment 100 percent."
Breitbart News previously reported
that Trump opposes universal background checks, assault weapons bans, high-capacity magazine bans, gun-free zones on military bases, and gun-free zones that keep teachers defenseless on school campuses. He supports harsh penalties for gun crime and wants Antonin Scalia's Supreme Court replacement to be a "
very, very smart conservative
" akin to Scalia himself.
AWR Hawkins is the Second Amendment columnist for Breitbart News and political analyst for Armed American Radio. Follow him on Twitter: @AWRHawkins. Reach him directly at

[email protected]
.