Gun Rights Fight Heats Up in Massachusetts
Second Amendment group protests 'crackdown' on sale of assault weapons by state AG
SHARE
TWEET
EMAIL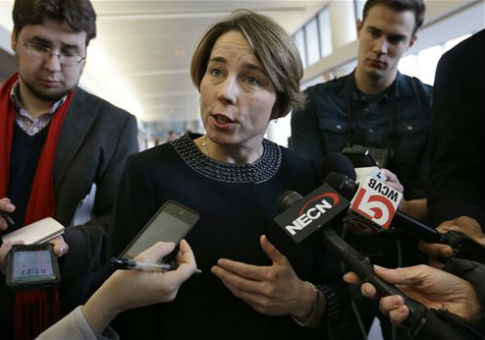 Massachusetts Attorney General Maura Healey / AP
BY:
Mary Lou Lang-Byrd
August 17, 2016 3:15 pm
Gun rights advocates in Massachusetts are turning up the heat against the state's attorney general, who they say potentially made thousands of citizens "felons in waiting" with her recent
enforcement
notice that changed the legal definition of assault weapons.
The latest rally by gun rights advocates against state Attorney General Maura Healey's change
attracted
hundreds of people on Monday.
The Call to Action Rally featured signs that read "Healey Hurts Families" and "We Stand With GOAL." The Gun Owners' Action League, or GOAL, is the Massachusetts-based Second Amendment group that organized the rally and several
others
in recent weeks.
ADVERTISING
Healey's enforcement notice was
posted
online while the Massachusetts legislature was on break for the national party conventions. It stated that Healey's office is "stepping up enforcement of the state's assault weapons ban, including a crackdown on the sale of copycat weapons."
If a weapon meets one of two criteria—the similarity or interchangeability tests—the attorney general wrote, "it is a Copy or Duplicate (and therefore a prohibited assault weapon), even if it is marketed as 'state compliant' or 'Massachusetts compliant.'"
Twenty mayors have now come out in support of Healey's action.
"As mayors from across Massachusetts, the safety and well-being of our residents and neighborhoods is our top priority. In the wake of the mass shooting at Orlando's Pulse nightclub and incidents of violence against civilians and law enforcement in cities across the country, our positions demand that we speak out," a
letter
sent Tuesday stated.
The mayors said they have continuously called "for national solutions to gun violence," increased mental health funding, and an "end [to] the sale of military-style weapons to civilians, because our cities are not war zones."
"For this reason, we have come together to express our strong support for Attorney General Maura Healey's recently announced effort to enforce the state's ban on the sale of assault weapons. We back her push to end the sale of copycat assault weapons and to give our residents what the attorney general calls 'the full protection' of our state laws," the mayors wrote.
GOAL's executive director was unavailable for comment, but the group has slammed Healey's unilateral action on social media and on its website.
"This is a brand new interpretation of the law that has potentially made hundreds of thousands of lawful citizens 'felons in waiting,'" GOAL
wrote
. "Lawful gun owners are going to spend the rest of their lives with a potential 10-year prison sentence hanging over them because of a political stunt."
"She unilaterally changed the rules and interpretations of long standing law overnight without seeking legislative support or consultation, without consulting the state agencies that have statutory authority over the laws. She did it in secret with no public input," GOAL wrote.
GOAL plans another rally on August 28, according to the group's Facebook
page
.