Court Orders SAFE Act Records Released in Lawsuit Against Cuomo
Ruling comes after denial of more than 2,000 FOIA requests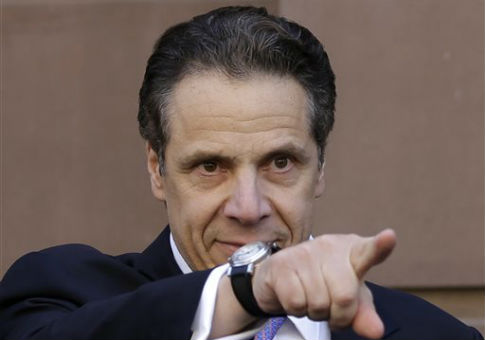 Gov. Andrew Cuomo / AP
BY:
Mary Lou Lang-Byrd
Follow @MaryLouByrd12
May 8, 2015 2:00 pm
A court has ordered New York Gov. Andrew Cuomo to release records from his SAFE Act's assault weapons registry immediately as a result of a lawsuit filed against him by a radio talk show host.
The New York Supreme Court in Albany County ordered Cuomo to release statistical records related to the registry from the New York State Police. Judge Thomas J. McNamara
directed
the release of records after Freedom of Information Act requests were denied for over a year.
The court's judgement indicated that the State Police received 2,019 FOIA requests for records similar to the petitioner's request from January to September 2014.
"The reason we pursued it for our station was to get figures from the government, and they weren't providing it," said Bill Robinson, host of the Second Amendment Radio Show and the Homeland Security Radio Show at WYSL, a talk radio station in Avon, New York.
"They are supposed to be public servants, and we pay them," said Robinson. "We've had enough of this nonsense. They work for us and we want to remind them of that."
Robinson said he was asking for general statistical information from the registry, not confidential material such as names of those on the registry or their addresses. "And we had to sue for it," he said.
Robinson's attorney, Paloma Capanna, said in a prepared statement that the ruling takes effect immediately.
"We won. The ruling is clear and unequivocal. The effect of the ruling is immediate," said Capanna. "Any failure to comply with the ruling can—and will—be met with an application for civil contempt against the New York State Police."
The case argued that the Cuomo Administration refused to provide any non-identifying, statistical information about the registry despite calls from Robinson, the New York State Committee on Open Government (SCOPE), the New York Public Interest Research Group, and the New York State League of Women Voters.
"This judgment of the court requires the New York State Police to release statistical information about the so-called assault weapons registry, which they have tried to keep secret," said Stephen Aldstadt, president of the Shooters Committee on Political Education, a Second Amendment group.
The records that must now be provided to Robinson, a member of SCOPE, include the number of assault weapons registered with the NYS Police on or after January 15, 2013; the total number of individuals who submitted applications to register these weapons on or after the same date; and a breakdown of information in registrations by county, zip code, or any other geographic identified.
A total of 15 categories of records were requested and must now be submitted.
Two Republican assemblymen praised the court's ruling in statements, and blasted Cuomo's lack of transparency, not only regarding the SAFE Act, but in other areas.
"The Cuomo Administration has the worst record for transparency in modern New York political history. Everything is a secret to the governor, and he fights tooth and nail to keep the public from knowing what is going on," said Assemblyman David DiPietro (R.).
"Maybe with this great victory in court, we will finally have an open window to see whether this registry is yet another maneuver by the Cuomo Administration for personal gain with no public benefit," said DiPietro.
"The SAFE Act never had anything to do with preventing crime or tragedy, which is why Andrew Cuomo is now refusing to provide any meaningful information about its enforcement. It was a staged theatric, which will do nothing more than snag otherwise law-abiding New York citizens in a nightmare of compliance problems," said Assemblyman Bill Nojay (R.).
"Let us see now whether the governor, himself, complies with a court order for the sharing of information with the public," said Nojay.
Cuomo's press office did not respond to a request for comment.