Hillary Clinton Calls 31 Million Breitbart Readers 'Racist' Klansmen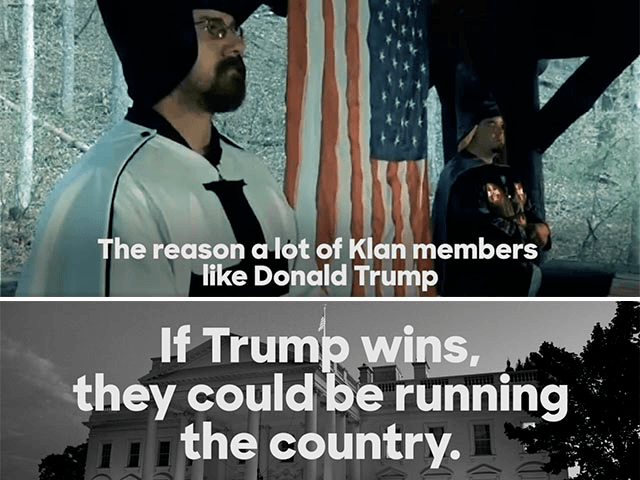 by
BREITBART NEWS
25 Aug 2016
5,560
advertisement
Amid a deafening chorus calling for the closure of her corrupt foundation to stop bagging foreign cash for favors, embattled Democrat presidential candidate Hillary Clinton has decided to label 31 million people as racists, simply because they don't agree with her:
The Clinton campaign attack ad targeting Donald Trump portrays Breitbart News employees and readers as racists, white supremacists, and members of the Ku Klux Klan.
The ad includes shots of men dressed in Ku Klux Klan robes followed by footage of crowded Trump rallies. One shot shows Stephen K. Bannon, who temporarily stepped down as executive chairman of Breitbart News, standing in front of a mural depicting the Constitution and Bill of Rights.
Last month, Breitbart News was read by a record
31 million people
.
Hillary Clinton described
KKK recruiter Robert Byrd as her "mentor."
Pastor Mark Burns, who is black, from the Trump camp condemned the tactic:
Hillary Clinton and her campaign went to a disgusting new low today as they released a video tying the Trump Campaign with horrific racial images. This type of rhetoric and repulsive advertising is revolting and completely beyond the pale. I call on Hillary Clinton to disavow this video and her campaign for this sickening act that has no place in our world.
Read More Stories About:
2016 Presidential Race
,
Big Government
,
Racism
,
Donald Trump
,
Hillary Clinton
,
KKK
,
Mark Burns
,
Robert Byrd
,
Steve Bannon