I think we need to stop sending these camel farmers so much oil money.
This is completely ridiculous.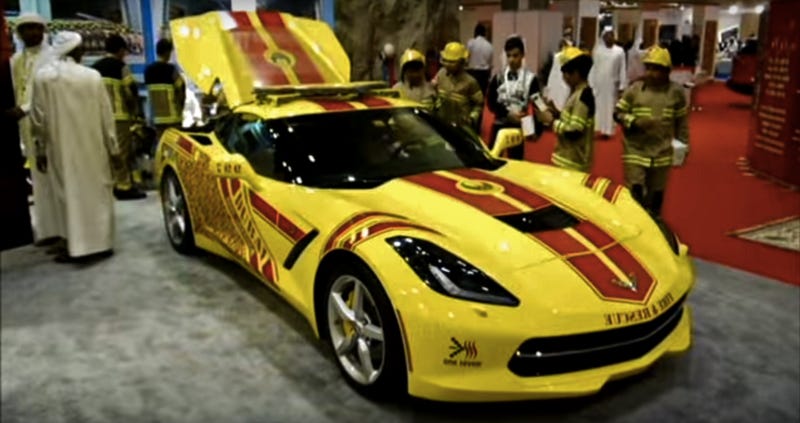 (Image: Bardas/YouTube) We've seen all manner of insane iron on
Dubai's police force
, but apparently they're also picking up a wing of tuned Corvettes in pursuit of "the world's fastest fire engine" record. And, presumably, fire.
Lieutenant Colonel Hussain Al Rahoomi of the Dubai Civil Defense Station Affairs Department told
Gulf News
that the agency has two such Corvettes and is planning on purchasing two more. There are at
least
two, because there are pictures of both the C6 (the previous generation) and C7 (current) Corvette wearing this red-on-yellow livery. Advertisement
Apparently one of the cars, presumably the older one, "had been used in previous emergencies along the emirate's busy highways as it reach emergency sites faster than the traditional, heavy fire trucks."
Sponsored
Each "UAE Fire & Rescue" Corvette is supposedly worth about $136,000, including the performance modifications (which have not been explicitly explained) and a tiny little fire suppression setup tucked into the trunk.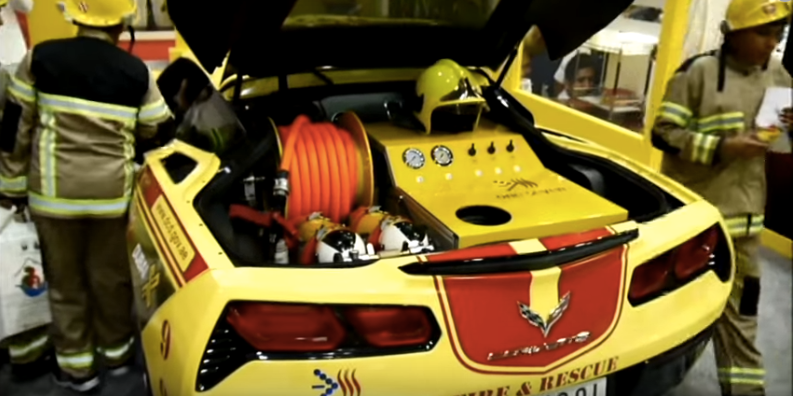 (Image: trevorcharlesaustin/YouTube) It's a cute publicity prop, but as for that "world's fastest fire engine" claim the Dubai department is going to have to get a little hotter than 211 MPH, as
The Drive
's Will Sable Courtney points out that honor belongs to
the jet-powered Hawaiian Eagle
which screamed to just shy of 407 MPH in 1998.
But on top of Dubai's lavish police fleet, and apparently high-performance fire department, I'm also just realizing that their ambulance service also uses hysterically impractical and awesome vehicles. At least, in some capacity.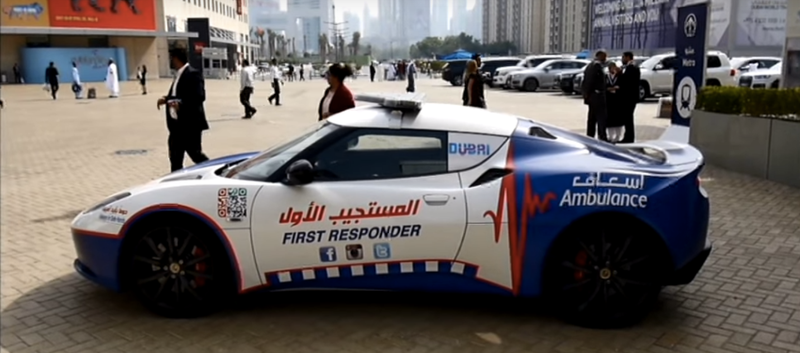 (Image: trevorcharlesaustin/YouTube) Behold: the most fun and least-useful ambulances ever!
Now an EMT or paramedic in a supercar, that might make sense. But an ambulance is literally supposed to carry sick or debilitated people, making this two-seat sports car a remarkable terrible choice. But it's probably just a publicity prop, along with that 370Z, Dodge Challenger and pair of Mustangs.
Don't worry, if you do get a boo-boo in Dubai the local rescue squad also has a fleet of vehicles that can carry your bent body in relative comfort.
What I would give to sit in on a Dubai rescue agency's budget meeting.